7 More Exciting Speakers to Come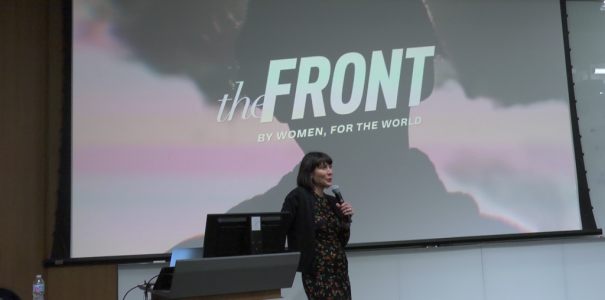 Thalia Mavros offered great advice for both students and spaces of creativity at her talk this Monday, February 25th!

For students:
– Test out industries!
Whatever field you are interested in, reach out, shadow someone, intern at a company in that field and see what they day to day is really like

– Learn many skills and tools, but master one!
If you become really good at one thing it will spread your name to other collaborators and give you room to learn new skills and workflows.

For creative spaces:
– Expose your team members to different parts of the pipeline
Film requires recording, editing, sound, directing, etc. Show your videographers how editors work and vice versa. This will allow for better synergy between the creatives.

– Diverse energy in gender, race, age, religion, etc. creates diverse work
It's not easy to gather a diverse team, but putting it together permeates through your work allowing for ground breaking creativity.
Now, one session may have finished, but luckily we have 7 more incredible speakers coming! Thanks to our amazing graduate students this collaboration brings in creative professionals from all walks of life. From accessibility to film to the in between of experience design, their insight and stories are exciting to hear. Be sure to stop by.
The series meets Mondays from 6-7pm in 370 Jay Street, 2nd floor auditorium, and is open to the public.

Coming March 4th is Che-Wei Wang & Taylor Levy founders of CW&T Art and Design Studio. They've created projects like Salty, an aesthetically beautiful and functional salt holder and magazine, and The Personal Body Index Unit, a chart that guides you on how your body can be the measuring tape you've always needed. Stop by Monday March 4th from 6-7pm to hear about their physical, print and other design work!
Students will gain insight on making it into the career space.

Employees will gain insight on ways to improve creativity in their digital media spaces.

So come out and come grow!