Congrats to Jillian Larson and Her Team For Winning $15,000 from the Audi Drive Progress Grant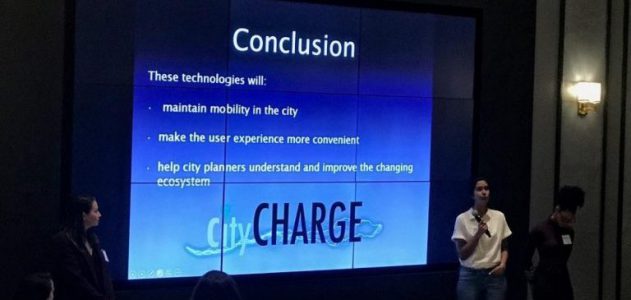 On March 2nd, the second Forbes Idea Incubator was held in NYC. This challenge tapped into the female engineers @ NYU Tandon School of Engineering to develop innovative and meaningful solutions around the impact electric vehicles will have on urban mobility.
Jillian Larson (BS in IDM), Nicola Ramdass (BS in Electrical Engineering) and Bryanna Simone Allen (BS in Computer Science) pitched their City Charge app which earned them second place and $15,000 from the Audi Drive Progress Grant.
Their idea took a future view where "[they] anticipate charging stations being implemented in cities using the existing power infrastructure from street lights and regulated like metered parking." In order to increase ease of access to relevant information about these stations "[their] app will allow users to view the real-time status of these stations and could be integrated into a car's dashboard and supported by Amazon Alexa."
Jillian Larson as also been spotlighted as someone representing the NYU Tandon ethos of "Born Anywhere, Made in Brooklyn." Here is a 1min video of what the ethos means to her as someone from a small town moving to a big city.